MyLadyboyDate is possibly the best dating site to use if you want to have the opportunity to meet many transgender beauties, and in this review you will find out exactly why that is. .
Intro to MyLadyboyDate.com
In simple terms, MyLadyBoy Date is a transgender dating site that makes it very easy for men to meet and date ladyboys from all over the world.
The site makes transgender dating more accessible to many of us, especially to those that are looking for serious relationships, and even marriage to a ladyboy. And although gaining respect and recognition in this niche dating site market is not easy, MyLadyboyDate is easily one of the most dependable dating site out there.
I was personally surprised with the MyLadyboy Date support. Through my email correspondence with their support, I could tell how dedicated they are in the quality and legitimacy of their ladyboy dating site.
Their business seems to stand out — in a good way. They want to create a trustworthy site that is not just for casual dating, but also for more meaningful dating experiences with real transgenders, or shemales. A site that has them from all over the world.
MyLadyboyDate Members
My first experience was positive, as I noticed there were quite a few ladyboys online at any given time. Although it was less than what you would find on straight dating sites, for this small niche market it was plenty.
MyLadyboydate.com is also great that it has members from all over the world. This is great for two reasons:
It gives you the flexibility of potentially meeting and dating a transgender in your own city
It also gives you a good glimpse of other ladyboys in other cities that you may soon travel to.
Trust me when I tell you, having the ability to potentially date ladyboys from any city is a great thing. It doesn't limit your experience to just a few cities. From my observations when using the site: there is also a decent amount of transgender is many of the popular cities around the world.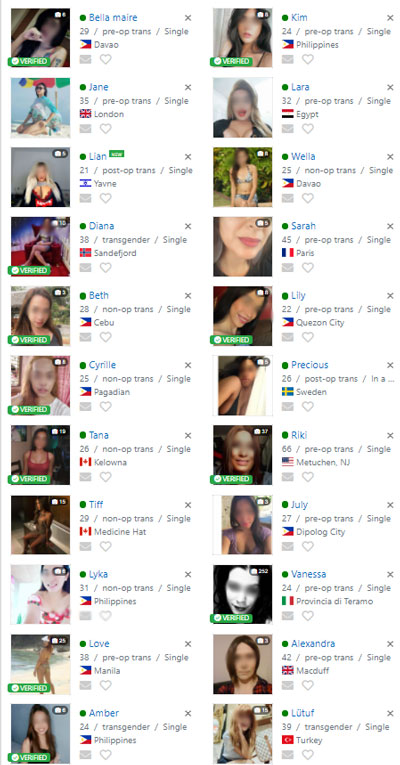 My Ladyboy Date is a legit dating site. I quickly noticed that right away from the Verified Member Status of some of the profiles. This is an extra step that the site takes to make sure most of the profiles are of real ladyboys. Members such as yourself, who are also interested in legitimate dating or marriage.
The Power of Your Dating Profile
One of the most important things to build is your dating profile on My Ladyboy Date. That means taking the time to fill out the information about yourself. It gives a chance for the that trans women on the site to quickly get an idea of what you are looking for.
One of the biggest mistakes most men make is to leave the dating profile blank, with just minimal info.
TIP 1: While its true that you shouldn't full out write everything about yourself in your dating profile, you should write enough to make it interesting and eye catching.
A great detailed profile can make the world of a difference in online dating, especially when it comes to ladyboys.
The reason is because ladyboys are quite vulnerable to abuse, and being taken advantage of. There are some men who like to think that ladyboys are sub-human, and seem to think they can treat them wrong. Yes, I know that is bad, but it is a reality — ladyboys can attract the wrong "types" of men.
Your dating profile is a great way for them to trust you initially, and take it further once they start communicating with you. Think of it as a first impression.
Your profile description of MyLadyboyDate should complete. Write a bit about yourself. This can include things such as your:
hobbies
career
relationship preference
funny and humorous side
passions
The most important thing here is to be genuine. Don't try to be someone who you are not. Give the ladyboys a good glimpse of who you are, but keeping some mystery about yourself to make them want to know you more. The best way is to be creative. Think of the small things that are interesting and unique about you. The more unique, the better.
Profile Photos
The My Ladyboy Date profile photos section is a great way for you to show off some of your best pics. Profile photos and the decription are the ultimate combination to make yourself look interesting. In return, you will get A LOT more attention from the ladyboys in the site. Your profile photos should be your best photos.
TIP 2: A great photo will make you seem real and personable. It is a huge indicator of what kind of person you are in real life. It is also a great way for you to show off your best physical features. Trans women appreciate a well kept man. Someone who pays attention to their appearance.
My Ladyboy Date does a great job of maintaing your privacy. Your entire profile can only be viewed by members who are logged into the site.
The site also does not allow search engine crawlers to view the profiles. That means your profile is private, and can't be accessed on the world wide web search engines such as Google, Bing, Yahoo, etc.
Keep in mind, MyLadyboyDate.com is a reputable dating site. The owners have done a great job of maintaining the web sites reputation as a REAL ladyboy dating platform –one that is safe, easy to use, and result oriented.
Search Features & Functionality
A sign of a great dating site is the power of its search and browising capabilities. My LadyBoy Date is able to hold its own in this regard.
As stated before, you can search ladyboys that are available from all over the world. You will find that there are more dating profiles in the capital cities. That is not to say you can't find members from the less known cities around the world — you can. Just keep in mind that usually there are more transgenders in the populated cities.
As with other effective dating sites, MyLadydate.com allows you to select different types of search filters to customize your browsing experience. The types of filters include:
Age
Bodytype
Height
Weight
Country
City
Language
Religion
Occupation
Would Relocate
Would Travel
Education Level
Ethnicity
Zodiac Sign
As you can see, there are lots of things that can differentiate your preference of profiles online. So it is good to take some time to fill out your profile, and also use the search filters to your benefits. Keep in mind that the most successful men on dating sites are the ones that know what they want, and are assertive in their search for ladyboys online.
TIP#3 It is recommended to use the search filters if you have set preferences in your dating and relationship goals. Using the search and browse features is a great way to review the MyLadyboy Date member profiles according to your own needs and desires.
Just keep in mind that the heavy customized searches will typically return fewer page results than general browsing. Use your own judgement and test out the search filters in order to become familiar with the type of search results you can expect on this ladyboy date site.
Review: Pre-Op and Post Op Ladyboys
Another thing to consider is that there a generally 3 types of ladyboys and trans women online. They are as following:
Pre-Op: These are the ladyboys that are planning (or hoping) to get surgery in order to become a woman. That means that they still have their male private part intact.
Post-Op: When a ladyboy completes the gender replacement surgery, they are known as "post-op", which really stands for post operation. Unfortunately, although many of them desire to be a genetic woman, not all can afford to get this expensive and life-altering procedure. In any case, you can be sure that they look and feel like a woman should.
Non-Op: This term basically means that she has no intentions of getting the procedure to become a "real" woman. In all cases you should respect the memberss on My Ladyboy Date and never question them about their choice to remain a non-op.
My Ladyboy Date Chat Guideline
It can be very effective to learn how to have proper respectful conversations with the transgender women on MyLadyboyDate.
Some men make the mistake of speaking disrespectfully to the members. They may forget that ladyboys really behave and act like women. In fact, they are just like women. Some can even act more feminine than real women.
Transgender women can have very delicate feelings, especially when they feel like other men judge them. Below is a quick guideline to help you out when chatting with the ladyboys on the site.
What To Say
Try to use the word "She", or "Her" when mentioning about ladyboys
Do your best to be understanding about their life situation
Be mindful when you give your opinions the transgender scene (if you don't have nothing nice to say, then don't say it)
Encourage the transgenders on the site to be open with you, and that they can be upfront about their relationship expecations
What Not to Say
Avoid using terms such as "Tranny", "Shemales", or other potentially offensive terms
Do not say hurtful things to them if they reject you
Try not to force them tell you their whole life story from the first conversation online (they may feel vulnerable)
As you can see, the main thing is to be respectful. Making them feel like a real lady will help you gain their trust. It will also make them respect you in return, and see you as a long term dating prospect.
Here is a message from one of our readers on how important being respectful online can be:
You are absolutely right when you mentioned the online conversation skills thing. Although I was relatively successful with online dating, I was never too aware of my conversation skills with other members online. I forgot that chatting online is different than speaking in person. In person, everything you say is also filtered by your tone of speech, facial expressions, and body language. But conversing over text message online is much more direct, without emotions behind the words. You need to be more aware of how you chat to other members online, especially on MyLadyBoyDate. I noticed a huge difference in my success rate online when I paid more attention to what I said, and my overall online conversation skills.

Samuel C. , Montreal, CAN
Thank you Samuel for your message, and we couldn't agree more with you!
MyLadyboyDate Membership Cost
One great thing about MyLadyboyDate.com is that its free. Yes, that means you can sign up, and use most of the site functionality without any costs.
That being said, the standard membership can limit you to the full potential of this great dating site.
Standard Members Vs Premium Members
The Standard Membership will give you the following:
Profile Creation
Browsing Members Profiles & Photos
Profile Visibility
Up to 16 Photo Uploads
The Premium Account will give all of the standard member perks, plus the following:
Send and Receive unlimited messages
Extra featured profile visibility (important)
Unlimited photo uploads